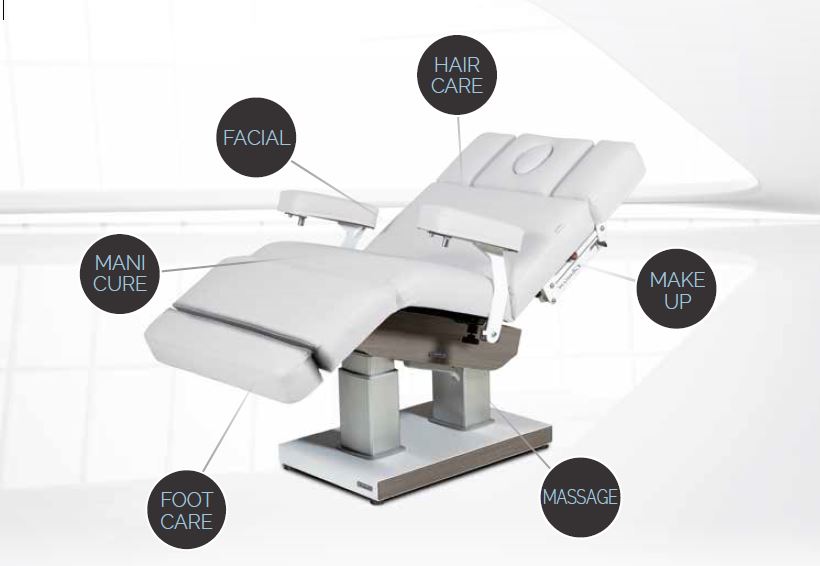 Multifunctionality at its best – For any purpose
The Gharieni 601 combines the best features of a spa table and a treatment bed in one:
Double lifting column technology for extreme loads
Fully electrically adjustable
Upholstery available in three widths: 75 cm (small), 80 cm (small-medium) and 85 cm (medium)
Upholstery in two thicknesses: standard and soft
Three headrests possible:

Dual headrest with exchangeable face cradle,
U-shaped face cradle
Standard headrest with breath hole.

Fold-away head rest for free access to the head and neck (e.g. for hair wash)
Thermal heatable surface to keep clients cozy and comfortable.
Swiveling, detachable side armrests for easy access
Laterally swiveling and lowerable arm support at the head section for effective massages
Can be operated via hand or foot switch
Four preset and two freely storable memory positions
30 minutes automatic operation safety lock
Mounting for magnifying lamps
Mountings for manicure bowls under the lateral armrests
Available in many different finishes and fully customizable to any décor.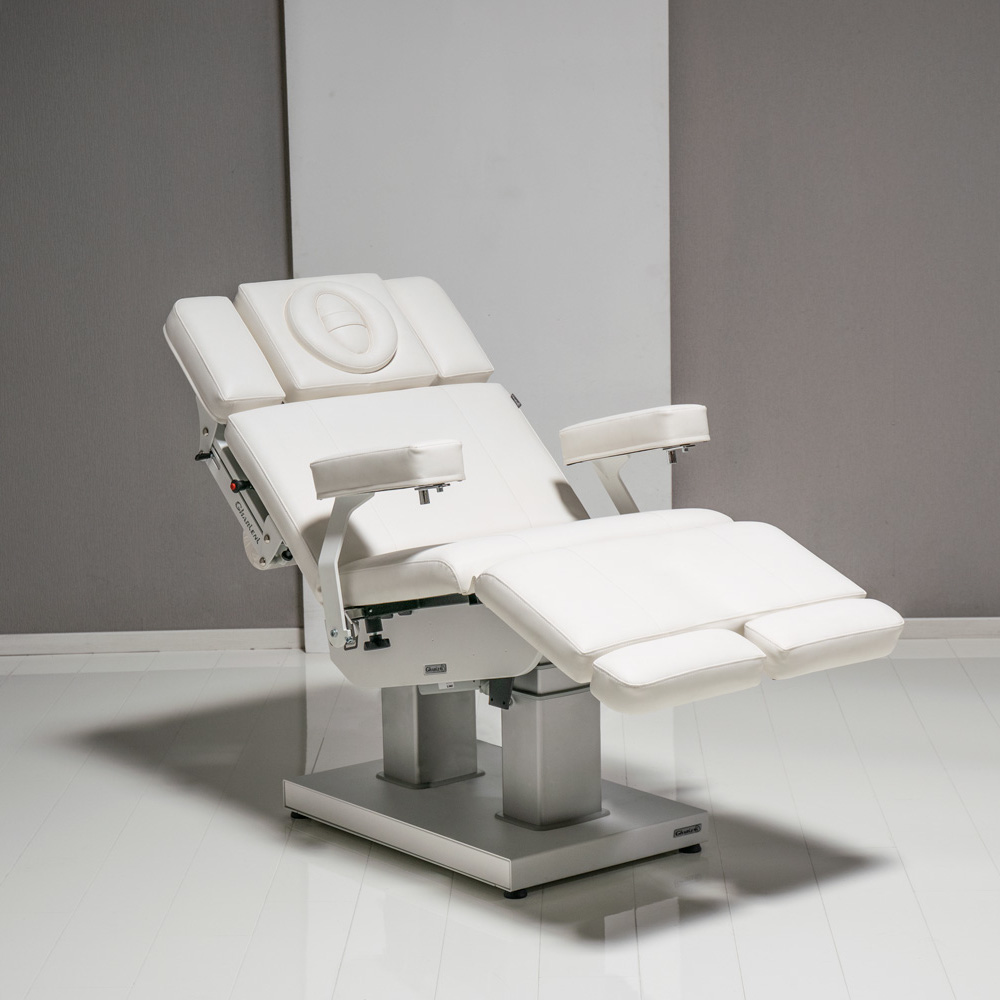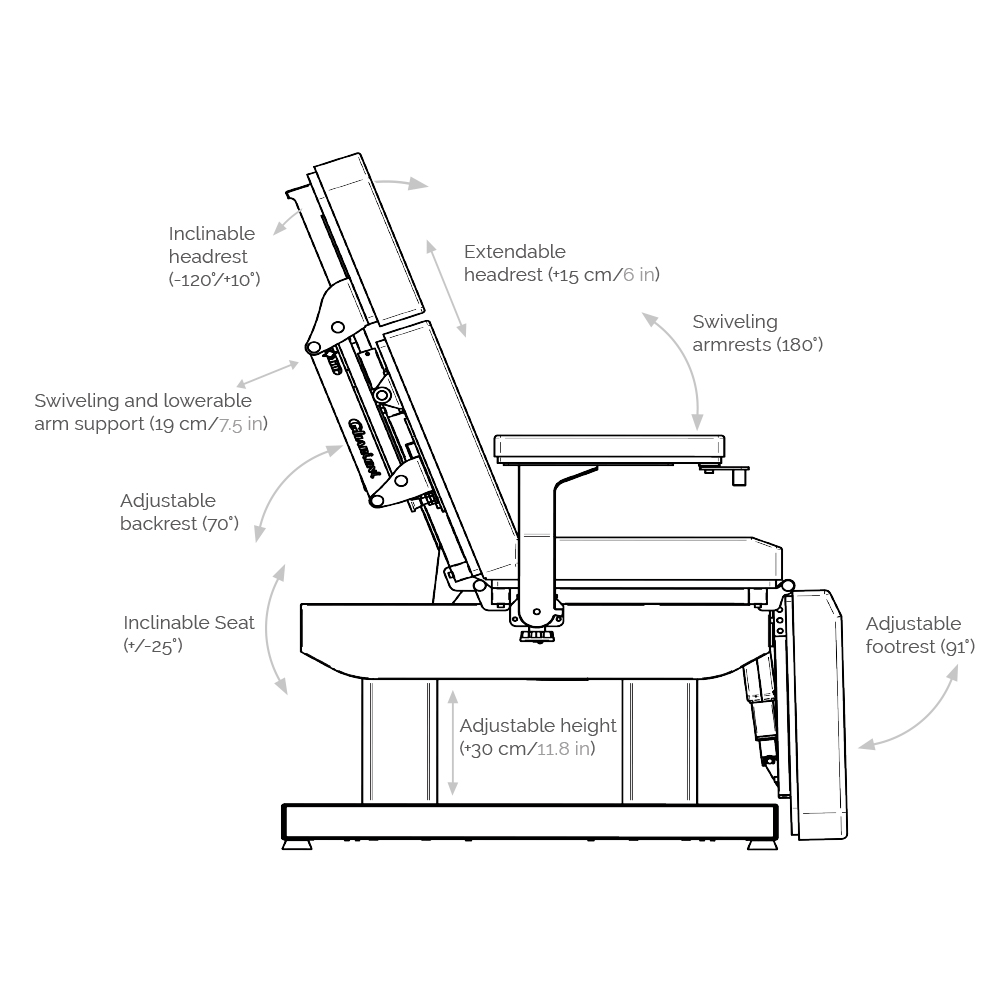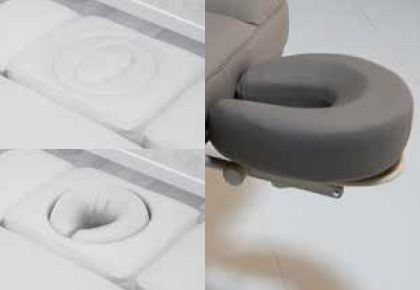 Three different headrests
In addition to the standard headrest, the 601 can be equipped with two other variants: The Dual, with an exchangeable round or crescent-shaped face cradle or U-shaped headrest.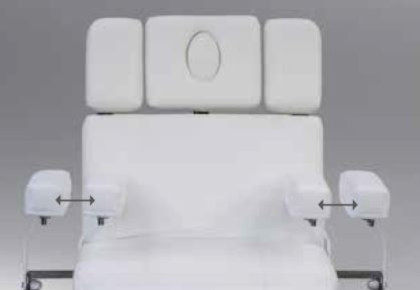 Adjustable armrests
For optimal adaptation to the customer, the armrestscan be moved outwards. Thus, the 601 offers even more comfort for every body type.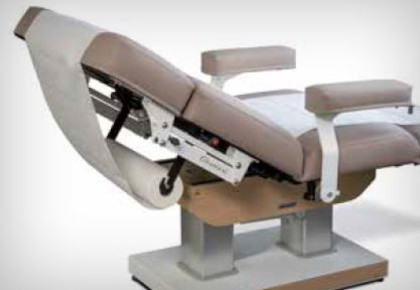 Paper roll holder
With a paper roll holder mounted on the back of the couch, you can always pull protective paper over the treatment bed.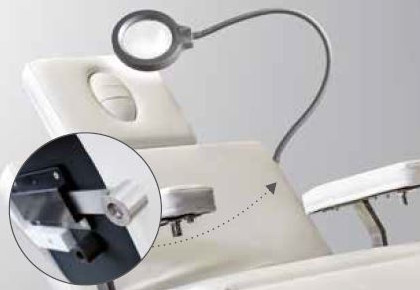 Holder for (magnifying) lamps
A surprising and handy feature is the extendable magnifying lamp holder made of stainless steel. Designed to fit the Circle LED magnifying lamp, it simply disappears under the bed when not in use.
Height: approx. 59 cm – 99 cm (23.2 – 39 in) (soft upholstery +5 cm (+2 in))
Length: max. 200 cm (78.7 in)
Width without armrests: 75/80/85cm (29.5/31.5/33.5 in)
Lifting capacity: 250 kg (551 lb)  / 400 kg (882 lb) (High Performance)
Load capacity of the bed surface: 300 kg (660 lb)  / 450 kg (992 lb) (High Performance)